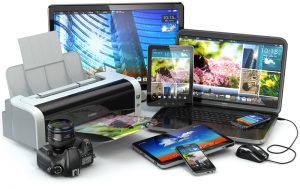 Silver Service IT is a supplier of all imaginable combinations of computer equipment. Today, we apply our knowledge and experience in selecting equipment that meets the highest industry standards. This provides our customers with an ongoing stress-free experience and reduces the risk on ourselves also by avoiding potential breakdowns.
It is impossible to compare our products with those sold in the shop that are mentioned only by their external specifications like CPU or RAM. Rather, we are interested in the technicalities that in most cases, a retail store couldn't advise on which components have been applied to the inside.
Let's talk about motherboards… for example
Without wanting to over explain, a simple example is in regards to a motherboard inside a computer. (Naturally, we could carry on this discussion for every other component also…)
We like the Gigabyte motherboards because they use cutting-edge Conductive Polymer Aluminum Solid Capacitors from the world's leading vendors, rather than the cheaper Electrolytic Capacitors. This means that the capacitors have a 6 times longer lifespan and therefore our customer has a better product.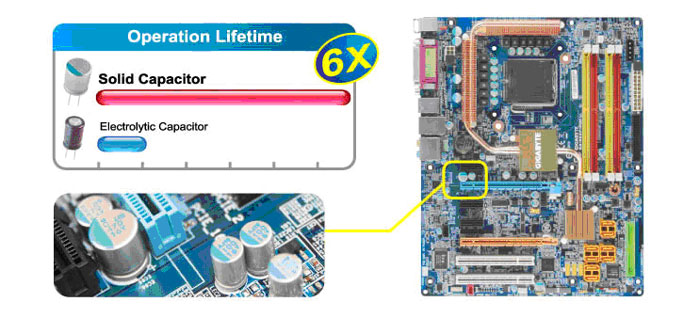 We protect our reputation by supplying equipment that we know will stand the test of time. A cheap deal on the street or in a retail shop, can often be cheaper for a reason unseen.
A good Gigabyte motherboard for a computer is less than NZ$200.00 today. Why compromise on such good quality when it is already within financial reach? Don't take our word for it, read the reviews online.
In all cases, if given a choice, we supply best-in-class, not over-expensive products and parts based on our up-to-date pier-reviewed understanding of technology and with our 25 years know-how and experience.
Prices and product models are always changing
At this time, our point of difference at Silver Service IT is our support services. We do what must be done to restore the confidence that almost all our customers had at one time in the past.
Apply that to a new computer supplied by us and you will need less service because we configure it correctly out of the box. Only the necessary software is installed, rather than a range of free-offers and trial-period software's.
In saying this, while we would love to list equipment and prices publicly, the models are changing so quickly that we go crazy trying to keep these pages up to date. Also, it largely depends on what the customer is looking for and what is their budget.
Our technicians are more than capable to determine the requirements for you and provide a quote to you at the same time.
Feel free to obtain other quotes and ask us to compare the differences with you.
You buy it and we can fix it
Ask us to rectify a new computer that you buy from a retail store and this is also our specialty and at our pleasure, but it naturally takes a little more service-time than if we provided the new machine to you from our own workshop. This is because we have to remove unnecessary software and offers to bring it under your control again.
After that we will apply the Silver Service IT methodology to create the best experience possible for you, our customer.
Quotes are available at all times
We pride ourselves on supplying equipment that meets the customers needs exactly and with room to upgrade in future if required. We believe that a computer with today's modern technology should last between 8-10 years without problem and perhaps with one minor upgrade at around 4-5 years.
Restore policies for future recovery
We don't believe in back-up strategies. What use is a back-up if you don't know how to use it?
All of our customers are offered a restore strategy and with the new computers and equipment we supply directly, this is a standard feature.
That is not to say that customers must know how to undertake this restoration. The comfort that the Silver Service IT policy offers to our customers is that we can recover your computer to new condition within 1 hour, without harm to your saved computer files and photos.
We can achieve this through a well-defined Silver Service IT methodology to ensure the right outcomes in times of disaster. It is 30 years of waiting for Microsoft and others to apply this logic to computing and we will wait no more.
Today, this know-how is our gift to our customers.